A. K. DuBoff
Amy DuBoff has always loved science fiction in all forms, including books, movies, shows and games. If it involves outer space, even better! A full-time author, she is known for her character-driven space opera, including the Cadicle series, Uprise Saga, Dark Stars trilogy, and short fiction for anthologies featuring science fiction, science-fantasy and comedic sci-fi. When she's not writing, she enjoys travel, wine tasting, binge-watching TV series and playing epic strategy board games.
Ashley Chappell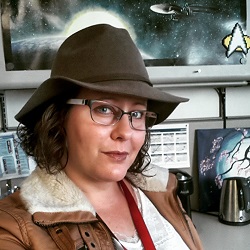 Ashley Chappell writes satire and young adult epic fantasy featuring expansive world-building and universes filled with magic, mayhem, and monsters. She is also a writer for Season 2 of The Blood Crow Stories, a serialized horror podcast featuring one complete story each season. Upcoming releases include expansions of her YA Fantasy Dreams of Chaos series; The Rimguard, a new adult urban fantasy; and The Harrows, a gritty adventure in which Hell is a job for life. Or rather, a job for the afterlife.
Chris A. Jackson
As a sailor, scientist, and gamer, nautical fantasy, Sci-fi, and RPG tie-in fiction came naturally for Chris. His Scimitar Seas novels won three gold medals from Foreword Reviews, and his Pathfinder Tales novels, Pirate's Honor, Pirate's Promise, and Pirate's Prophecy have received high praise. His magical assassin Weapon of Flesh series hit the Kindle bestseller list. He's also published urban science-fantasy, Dragon Dreams, with Falstaff Books, and a horror novella, The Deep Gate, for Fantasy Flight Games' Arkham Horror line. His short works include Sweating Bullets, in the Shadowrun anthology World of Shadows, and First Command, in the Women in Practical Armor anthology. His newest series, Blood Sea Tales, is underway with the first two volumes, and more forthcoming. Visit jaxbooks.com for a taste of his work.
Daniel Greene
Your YouTube Wheel of Time/Fantasy guy.
David Alan Jones
David Alan Jones is a veteran of the United States Air Force where he served as an Arabic linguist. A 2016 Writers of the Future silver honorable mention recipient, David's writing spans the science fiction, military sci-fi, fantasy, and urban fantasy genres. He is a martial artist, a husband, and a father of three. David's day job involves programming computers for Uncle Sam.
You can find out more about David's writing, including his current projects, at his website: davidalanjones.net.
Dave Schroeder
Dave Schroeder (SHRAY-der) is the author of the Congruent Mage fantasy series and the Xenotech Support science fiction humor series. Since he started writing in 2014, he's sold over 30,000 books. A retired IT executive from Atlanta, Dave enjoys performing with the Atlanta Radio Theatre Company, where he is a writer, voice actor, board member, and foley sound effects artist. Dave also runs a small publishing house called Spiral Arm Press that primarily handles his own work, including an audiobook version of Xenotech Rising, the first book in his SF Humor series. Podium Publishing, from Toronto, Canada, produces audiobook versions of Dave's Congruent Mage fantasy series. In 2003-2004, Dave wrote and produced an original comedic musical, Softwear.com, and put it on off-off-Broadway in New York. Look for his web site at https://daveschroeder.com.
David B. Coe/D. B. Jackson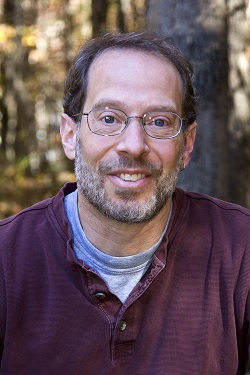 David B. Coe/D.B. Jackson is the award-winning author of twenty novels and as many short stories. As D.B. Jackson (http://www.DBJackson-Author.com), he is the author of The Islevale Cycle, a time travel/epic fantasy series from Angry Robot Books, which consists of TIME'S CHILDREN (October 2018), TIME'S DEMON (May 2019), and TIME'S ASSASSIN (Pub date to be determined). He also writes the Thieftaker Chronicles, a series set in pre-Revolutionary Boston that combines elements of urban fantasy, mystery, and historical fiction. Under his own name (http://www.DavidBCoe.com) he has written the Crawford Award-winning LonTobyn Chronicle, the critically acclaimed Winds of the Forelands quintet and Blood of the Southlands trilogy, the novelization Ridley Scott's, ROBIN HOOD, and a contemporary urban fantasy series, the Case Files of Justis Fearsson. He is the co-author of How To Write Magical Words: A Writer's Companion. He is currently working on several projects, including his next book for Angry Robot, his first editing endeavor, and a tie-in project with the History Channel. David has a PhD. in U.S. history from Stanford University. His books have been translated into a dozen languages.
Gerald L. Coleman
Gerald L. Coleman is a Philosopher, Theologian, Poet, and Author residing in Atlanta. Born in Lexington, he did his undergraduate work in Philosophy and English at the University of Kentucky. He followed that by completing a degree in Religious Studies, concluding with a Master's degree in Theology at Trevecca Nazarene University in Nashville. His most recent poetry appears in, Pluck! The Journal of Affrilachian Arts & Culture, Drawn To Marvel: Poems From The Comic Books, Pine Mountain Sand & Gravel Vol. 18, Black Bone Anthology, the 10th Anniversary Issue of Diode Poetry Journal, and About Place Journal. He is a speculative fiction author with short stories published in the Science Fiction, Cyberfunk Anthology: The City, the Rococoa Anthology by Roaring Lion, and the upcoming Dark Universe and Terminus Urban Fantasy Anthology. He is the author of the Epic Fantasy novel saga The Three Gifts, which currently includes When Night Falls (Book One) and A Plague of Shadows (Book Two). He has been a Guest Author and Attending Professional at DragonCon, Boskone, Blacktasticon, JordanCon, Atlanta Science Fiction & Fantasy Expo, The Outer Dark Symposium, and Imaginarium. He is a co-founder of the Affrilachian Poets and has released three collections of poetry entitled the road is long, falling to earth, and microphone check. You can find him at geraldlcoleman.com
James Maxey
James Maxey's mother warned him if he didn't stop reading comic books they'd warp his mind. She was right! Unsuited for decent work, Maxey ekes out a living writing down his demented fantasies, twenty books to date, and counting. His books include Dragon Apocalypse, Bitterwood, Nobody Gets the Girl, and There is No Wheel. In what's certainly an omen of the end times, Maxey was named the 2015 Piedmont Laureate. Read more about him at jamesmaxey.net!
On a related note, one of my duties as Piedmont Laureate was organizing writer's workshops, so I'd be a good fit to take part in your Friday night workshop. Also, I'm a long time con veteran of ConCarolinas, Illogicon, CapClave, and more.
John Hartness
John G. Hartness is a teller of tales, a righter of wrong, defender of ladies' virtues, and some people call him Maurice, for he speaks of the pompatus of love. He is also the award-winning author of the urban fantasy series The Black Knight Chronicles, the Bubba the Monster Hunter comedic horror series, the Quincy Harker, Demon Hunter dark fantasy series, and many other projects. He is also a cast member of the role-playing podcast Authors & Dragons, where a group of comedy, fantasy, and horror writers play Dungeons & Dragons. Very poorly. In 2016, John teamed up with a pair of other publishing industry ne'er-do-wells and founded Falstaff Books, a small press dedicated to publishing the best of genre fiction's "misfit toys." In his copious free time John enjoys long walks on the beach, rescuing kittens from trees and playing Magic: the Gathering.
Melissa McArthur
Melissa McArthur is the founder and president of Clicking Keys Writer Services, a full-service editing, cover design, and layout company based in the upstate of South Carolina. She also serves as an Acquiring Editor for Falstaff Books, and is an accomplished editor and proofreader. A graduate of Winthrop University, Melissa has published short stories with Mocha Memoirs Press, Falstaff Books, Lore Seekers Press, and FunDead Publications. Her urban fantasy series, Guardians of Eternity, will be published by Falstaff Books beginning in 2018.
Merethe Walther
Merethe Walther has been fascinated with science fiction, fantasy, dystopian tales, and anything to do with the supernatural since she was a child growing up on the beaches of Jacksonville, FL. She was obsessed with books from a young age and began creating her own stories as soon as she was able to put pen to paper. She graduated second in her class from Full Sail University with a BFA in Creative Writing, and soon after completed her debut novel, Mercury in Retrograde. Her next book, an urban fantasy novel, is due to be published sometime in 2019. Merethe is an avid fan of video games and all things anime. She blames her weird sense of humor on spending too many hours reading books alone and has accepted that no one will ever be able to pronounce her name properly. When not writing, Merethe works as an editor from Atlanta, GA, where she lives with her husband and their rescue cat.
Michael Mammay
Michael Mammay is a science fiction writer. His debut novel, PLANETSIDE, was a library journal best books pick for 2018. The sequel, SPACESIDE, comes out from Harper Voyager in August, 2019. He is a retired army officer and currently lives with his wife in Georgia, where he teaches literature.
Samantha Bryant
Samantha Bryant is a middle school Spanish teacher by day and a novelist by night. That makes her a superhero all the time. Her secret superpower is finding lost things. She writes because it's cheaper than therapy and a lot more fun. She's best known for her Menopausal Superhero series of novels and stories.
When she's not writing or teaching, Samantha enjoys family time, watching old movies, baking, reading, gaming, walking in the woods with her rescue dog, and going places. Her favorite gift is tickets (to just about anything). You can find her on Twitter @mirymom1 or at: http://samanthabryant.com
Sargon Donabed
Raised in New England, a childhood running amok outdoors and reading tales of magic and dragons (or magical dragons), Sargon is an expert on myth and folklore and is especially interested in haeccity in a panentheistic context with an emphasis on simultaneous immanence and transcendence. Currently he is writing a midgrade fantasy retelling of Gilgamesh entitled Return of the Ancients and a high fantasy entitled Of Beasts and Mischief: The Unremembered Book 1. Sargon completed his undergraduate degree at Stonehill College before heading to California to enjoy the sun for a moment with friends and family. After returning to the East Coast he taught both middle school and high school (including special education) while studying ancient languages at Hellenic College in Brookline, Mass before moving to Toronto, Canada to pursue an MA and PhD in Near and Middle Eastern Civilizations. Donabed teaches cultural heritage and history as well as mythology, folklore, and wisdom literature of the ancient, medieval, and modern world. His contemporary focus consists of indigenous and marginalized communities and threads of continuity. He is an expert on the perennial history of Assyro-Mesopotamian culture. A glutton for academic punishment, he is completing a MS in Anthrozoology/Animal Studies at Canisius College. Sargon is an avid adventurer and enjoys yoga and martial arts as well as almost every other sport imaginable (pending definition of course). And while definitions are feeble interpretations of reality, he would prefer to identify with his love of nature and focus on animal rights as well as wildlife and environmental conservation. He hopes to one day simply walk into Mordor, learn the spell fireball, locate Elvander on a map (and later the Blessed Isles), and learn the secrets of the Azath and path to ascension. Oh, and be able to stop trophy hunting by revealing the location of the hunters' privy to the animals. Today, he teaches at Roger Williams University and lives with his human and feline (and all manner of arachnid and a recent formicidae tribe) family in New England.
Venessa Giunta
Venessa Giunta is a writer of weird things and the author of the urban fantasy novel, Jivaja. She holds an MFA in Writing Popular Fiction from Seton Hill University and has worked on the editorial side of publishing for a decade. Her non-fiction essay "Demystifying What Editors Want" can be found in the book, Many Genres, One Craft. She is active in convention life, having held a number of organizational positions over the years and is currently Second to the Director of the Writers Track at Dragon Con, a SF/F fan convention with more than 80,000 attendees. Venessa lives with her hubby in Atlanta, Georgia, and shares a home with three cats who all seem to think they rule the castle, but none of which pay the mortgage.
Follow her on Twitter @troilee or check out her website at http://www.venessagiunta.com, where you can find lots of good info for writers, especially.