Featured Attendee
Brandon Sanderson
Brandon Sanderson is an American fantasy and science fiction writer. He is best known for the Cosmere universe, in which most of his adult fantasy books are set. He is also known for finishing Robert Jordan's epic fantasy series The Wheel of Time.

Darin M. Bush, Author Guest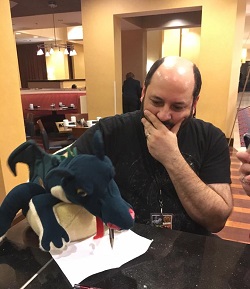 Darin M. Bush is an award-winning science fiction and fantasy author, specializing in short stories. His latest story, A Game with Death, was a finalist in the Creative Loafing 2017 fiction contest.
Bush is also a professional speaker with a 10-year chip from Toastmasters. He has spoken on or moderated panels at Anachrocon, CONjuration, DragonCon, DreamHack, JordanCon, Monsterama and WhoLanta. He lives near Atlanta, Georgia. You can find his short stories in his Amazon author's page, and you can find him online on Facebook.
Ashley Chappell, Author Guest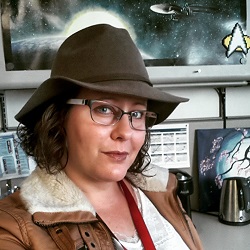 Ashley Chappell writes satire and young adult epic fantasy featuring expansive worldbuilding and universes filled with magic, mayhem and monsters. She is also a writer for season two of "The Blood Crow Stories", a serialized horror podcast featuring one complete story each season.
Upcoming releases include The Hotting, a Dreams of Chaos spinoff adventure for younger readers; The Rimguard, a new adult urban fantasy; and The Harrows, a gritty adventure in which hell is a job for life. Or rather, a job for the afterlife.
Chappell currently resides in Huntsville, Alabama. When not writing, reviewing or burying her nose in one of her well-worn Terry Pratchett or Neil Gaiman novels, she can be found sailing with her husband on their boat "Dupracity" (fans of Kurt Vonnegut may recognize the root of the name).
Paige L. Christie, Author Guest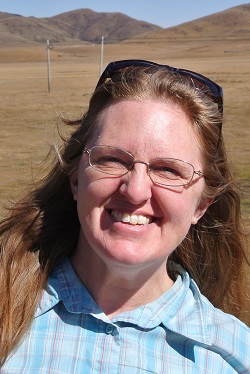 Paige L.Christie, author of Draigon Weather and the forthcoming Wing Wind, was raised in Maine and lives the NC mountains. She enjoys writing speculative fiction, walking her dog and being ignored by her herd of three-legged cats. Always a nerd, obsessive about hobbies like photography, Ghawazee dance and listening to the characters in her head, Paige can be found slightly left of center.
As a believer in the power of words, Paige tries to tell stories that are both entertaining and thoughtful. Especially of interest are tales that speak to women and open a space where adventure and fantasy are not all about happy endings.
David B. Coe, Author Guest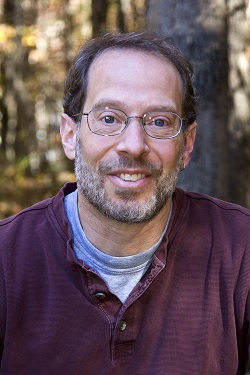 David B. Coe, who also writes as D.B. Jackson, is the award-winning author of nineteen novels and more than a dozen short stories. Writing under his own name (visit DavidBCoe.com for details) he is the author of the Crawford Award-winning LonTobyn Chronicle, the critically acclaimed Winds of the Forelands quintet and Blood of the Southlands trilogy, the novelization Ridley Scott's Robin Hood and Case Files of Justis Fearsson, a contemporary urban fantasy published by Baen Books.
Writing as D.B. Jackson (visit DBJackson-Author.com for details), he is the author of The Thieftaker Chronicles (Tor Books), a series set in pre-revolutionary Boston that combines elements of urban fantasy, mystery and historical fiction.
David co-founded the Magical Words group blog and is co-author of How To Write Magical Words: A Writer's Companion. His books have been translated into a dozen languages.
David was Literary Guest of Honor at JordanCon 2011, and he is delighted to be back for this 10th anniversary celebration.
Blue Cole, Author Guest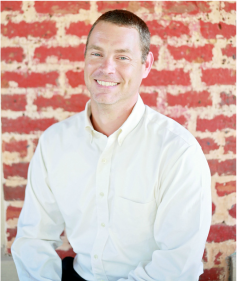 Blue Cole has been writing since he could grip a pencil. After almost 15 years of business ownership, he has returned to writing.
Some of his previous jobs include working as a pizza maker, performing drug and DNA tests, and selling children's clothes. He currently works for a state government. He grew up and still lives with his family in rural Georgia, a common setting in many of his works.
Gerald L. Coleman, Author Guest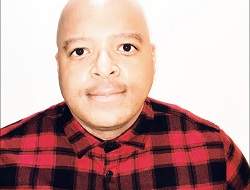 Gerald L. Coleman is a philosopher, theologian, poet and author residing in Atlanta. Born in Lexington, he did his undergraduate work in philosophy and english at the University of Kentucky. He followed that by completing a degree in religious studies and concluding with a master's degree in theology at Trevecca Nazarene University in Nashville.
His most recent work appears in, Pluck! The Journal of Affrilachian Arts & Culture, Drawn To Marvel: Poems From The Comic Books, Pine Mountain Sand & Gravel Vol. 18, Black Bone Anthology, the 10th Anniversary Issue of Diode Poetry Journal, and About Place Journal. He is a speculative fiction author with short stories published in the science fiction/cyberfunk anthology, The City, the Rococoa Anthology by Roaring Lion, and the upcoming Dark Universe: Interregnum. He is the author of the epic fantasy novel saga The Three Gifts, which currently includes, When Night Falls(Book One) and A Plague of Shadows (Book Two).
He has appeared on panels at DragonCon, SOBSFCon, Atlanta Science Fiction & Fantasy Expo, the Outer Dark Symposium, and has been a Guest Author and panelist at JordonCon and Imaginarium Con. He is a co-founder of the Affrilachian Poets and has recently released three collections of poetry entitled the road is long, falling to earth and microphone check. You can find him at geraldlcoleman.co.
A.R. Cook, Author Guest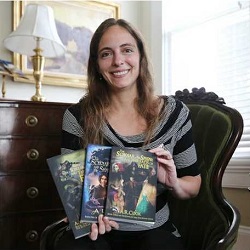 A.R. Cook of Gainesville, Georgia, is the author of The Scholar and the Sphinx young adult book series published by Mithras Books, the YA imprint of Knox Robinson Publishing. She also has short stories published in the anthology The Kress Project from the Georgia Museum of Art, and the dark fairy-tale collections Willow Weep No More and Shadows of the Oak from Tenebris Books.
From 2009-2013, A.R. was the book review columnist for the Gainesville Times, one of the most widely distributed newspapers in northeastern Georgia. She is also a playwright and aspiring screenwriter. Her plays have been performed and work-shopped at the University of Iowa in Iowa City; Western Springs, Illinois; and Atlanta, Georgia.
Milton J Davis, Author Guest
Milton J. Davis is owner of MVmedia LLC, a micro publishing company specializing in science fiction, fantasy, and sword and soul. MVmedia's mission is to provide speculative fiction books that represent people of color in a positive manner. Milton is the author of ten novels; his most recent is the steamfunk adventure From Here to Timbuktu. He is the editor and co-editor of seven anthologies: The City, Dark Universe with Gene Peterson; Griots: A Sword and Soul Anthology and Griot: Sisters of the Spear with Charles R. Saunders; The Ki Khanga Anthology, the Steamfunk! Anthology, and the Dieselfunk anthology with Balogun Ojetade. MVmedia has also published Once Upon A Time in Afrika by Balogun Ojetade and Abegoni: First Calling by Sword and Soul creator and icon Charles R. Saunders. Milton is also a co-writer of the award winning script Ngolo and recently served as the Hal Clement Science Speaker for Boskone 54.
Milton resides in metro Atlanta with his wife Vickie and his children Brandon and Alana.
Debra Dixon, Editor Guest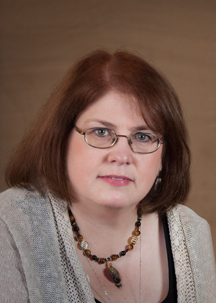 Debra Dixon is the Sci-fi/Fantasy Acquiring Editor for Bell Bridge Books, whose authors include Kalayna Price, John Hartness, Diana Pharaoh Francis, Jake Bible, D.B. Reynolds and Anthony Francis.
Early in her career, Dixon published with major publishers, wrote ten books, contributed to twelve anthologies and served as Vice President of RWA. Dixon is the author of the classic how-to bible for writers—GMC: Goal, Motivation and Conflict.
Sargon Donabed, Author Guest
Raised in New England, a childhood running amok outdoors and reading stories about magic and dragons, Sargon Donabed completed his undergraduate degree at Stonehill College before heading to California to enjoy the sun for a moment with friends and family. After returning to the east coast, he taught both middle school and high school (including special education) while studying ancient languages at Hellenic College in Brookline, Massachusetts before moving to Toronto, Canada to pursue an MA and PhD in near and middle eastern Civilizations.
He regularly researches cultural heritage and history, as well as mythology, folklore and wisdom literature of the ancient, medieval and modern world. His contemporary focus consists of indigenous and marginalized communities but also threads of continuity from the ancient to the modern period. He is an expert on the perennial history of Assyro-Mesopotamian culture.
A glutton for academic punishment, he is completing an MS in anthrozoology/animal studies through Canisius College. Sargon is an avid adventurer and enjoys yoga and martial arts as well as almost every other sport imaginable (pending definition of course). And while definitions are feeble interpretations of reality, he would prefer to identify with his love of nature and focus on animal rights as well as wildlife and environmental conservation.
He hopes to one day simply walk into Mordor, learn the spell fireball, locate Elvander on a map (and later the Blessed Isles), and learn the secrets of the Azath and path to ascension. Oh, and be able to stop trophy hunting by revealing the location of the hunters' privy to the animals. Today, he teaches at Roger Williams University and lives with his human and feline (and all manner of arachnid and a recent formicidae tribe) family in New England.
Amy DuBoff, Author Guest
Amy DuBoff has always loved science fiction in all forms, including books, movies, shows and games. If it involves outer space, even better!
A full-time author based in Oregon, she is known for the Cadicle space opera series, and she also writes short fiction for anthologies featuring science fiction, science-fantasy and comedic sci-fi. When she's not writing, she enjoys travel, wine tasting, binge-watching TV series and playing epic strategy board games.
Clay Gilbert, Author Guest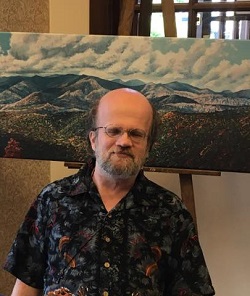 Clay Gilbert has been hearing the voices of aliens, vampires, and people from the future since about the age of four. It wasn't long before he started to think taking notes on what they said might be a good idea. This has led him many places — through the halls and classrooms of many schools, where he's been both in front of the teacher's desk and behind it himself — to presenter's podiums at conventions, and, most often, to the comfortable chair behind his writing desk at home, where he uses his Dell computer as both a beacon and a translator for the voices that still find their way through from countless worlds and planes of existence.
Clay has work in various genres has been in print since his first short science fiction story, "The Computer Conspiracy," was published in Scholastic magazine when he was just thirteen. He holds an MA in English literature from Auburn University, and an MFA in Fiction Writing from the University of South Carolina. Clay is the author of the science fiction series Children of Evohe, which currently comprises three volumes: Annah, Annah and the Exiles, and Annah and the Gates of Grace. He has also published a young-adult science fiction novel, Eternity, as well as a vampire novel, Dark Road to Paradise. His current projects include Cassie's Song, a sequel to Dark Road to Paradise, and a stand-alone urban fantasy novel called The Kind. He has also served as the Chief Editor for PDMI Publishing, and has been a member of the volunteer staff for DragonCon in Atlanta, Georgia for the past decade, where he has frequently appeared on panels with Dark Moon Press founder and CEO Eric Vernor.
Clay's works are currently published by Dark Moon Press. Clay lives and works in Knoxville, Tennessee. His author blog can be found at PortalsandPathways.wordpress.com, and the official website for his Children of Evohe novels resides at Childrenofevohe.com.
A.J. Hartley, Author Guest
A.J. Hartley is the international and NY Times bestselling author of 20 novels including two new young adult series: STEEPLEJACK, which won International Thriller Writer's YA book of the year, and was followed by FIREBRAND in 2017, and CATHEDRALS OF GLASS, part of a special partnership with Tom DeLonge of Blink 182 and Angels and Airwaves, with whom he is working on another scifi series the first of which is SEKRET MACHINES: CHASING SHADOWS, which was accompanied by an EP by Angels and Airwaves. He has just released his first YA ghost story, COLD BATH STREET and will release (as Andrew Hart) a new adult thriller, LIES THAT BIND US in June. His previous books include archeological mystery/thrillers such as THE MASK OF ATREUS and the young adult fantasy adventures ACT OF WILL and WILL POWER. The first of his DARWEN ARKWRIGHT children's fantasy trilogy won SIBA's best YA novel of 2012. He has also co-written with David Hewson two adaptations of Shakespeare plays as epic thrillers: MACBETH, A NOVEL (audio edition voiced by Alan Cumming) and HAMLET PRINCE OF DENMARK, A NOVEL (the audiobook, performed by Richard Armitage, was named Audible's book of the year for 2014). He is UNC Charlotte's Robinson Distinguished Professor of Shakespeare, specializing in performance theory and practice, and is the author of various scholarly books and articles from the world's best academic publishers including Palgrave and Cambridge University Press. He is an honorary fellow of the University of Central Lancashire, UK
Aaron-Michael Hall, Author Guest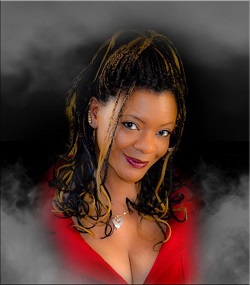 Aaron-Michael Hall is an award-winning speculative fiction author originally from Illinois. Since August 2015, she has written nine full-length novels and published five. Her first novel, The Rise of Nazil, has won numerous reader awards.
Now, when she is not interviewing indie authors on her Desu Beast Blog, being super mom, wrangling stampeding miniature dachshunds or managing her 9 to 5, she is interweaving genres, creating languages and adding just the right edge to keep you turning pages.
Hall created the Mehlonii language for her diverse epic fantasy series. Along with intriguing characters, multilayered plots, new species, deities and creatures, the Mehlonii language adds that fantastical element missing from most modern epic/high fantasy. You can listen to samples of the spoken Mehlonii language on her website.
It is her hope that the readers enjoy the wonders of Faélondul and Ahmezurhran even more than she enjoyed writing about them.
Faith Hunter, Author Guest
New York Times and USAToday bestselling fantasy author Faith Hunter was born in Louisiana and raised all over the south. Altogether she has 40+ books in print under the names Gary Hunter, Gwen Hunter, and Faith Hunter. As Faith, she writes two contemporary Urban Fantasy series: the Jane Yellowrock series, featuring a Cherokee skinwalker who hunts rogue vampires, and the Soulwood series, featuring earth magic user Nell Ingram. Her Rogue Mage novels are a dark, post-apocalyptic, fantasy series featuring Thorn St. Croix, a stone mage. The role playing game based on the series, is ROGUE MAGE, RPG.
Robyn Huss, Author Guest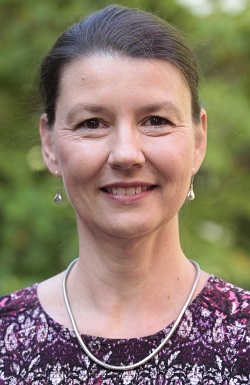 Robyn Huss is a freelance editor who specializes in heavy developmental and copy editing; she is a thorough grammarian and has a good eye for inconsistencies. She is able to focus on character development, dialogue, paragraphing, sequencing of events and details, theme, and symbolism, in addition to providing a thorough review of grammar, usage, style and word choice.
Robyn has been editing professionally since 2013, and has spent a lifetime analyzing literature and teaching writing. Her bachelor's degree from the University of Iowa is in English with teaching certification; she has spent almost 30 years teaching literature and writing to grades six through college. She currently teaches at the college level and holds several advanced degrees, including a doctorate, in the teaching of English.
JD Jordan, Author Guest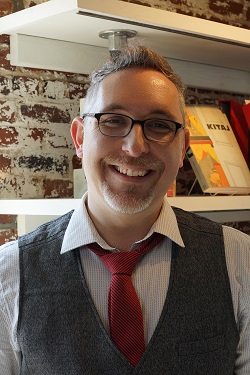 JD Jordan is the author of the acclaimed scifi-western novel, Calamity: Being an Account of Calamity Jane and Her Gunslinging Green Man — a Philip K. Dick Award submission, Georgia Author of the Year nominee and Nook selection. His writing has been featured in Creative Loafing, The International Journal of the Book, Newsweek and Paste Magazine. He is represented by The Zack Company.
Since the publication of Calamity, Jordan has become a frequent figure on the literary and writers' convention circuit, appearing at the AJC Decatur Literary Festival, The Broadleaf Writers Conference, Dahlonega Literary Festival and Milton Literary Festival, as well as a variety of public readings, author events and NaNoWriMo events. He has appeared as a guest on the Swiping Write podcast and is an active member of The Atlanta Writer's Club and the founder of The ATL Screenwriter's Cabal.
After attending The University of St. Andrews, Scotland, and graduating from both Hampden-Sydney College, Virginia, and the University of Georgia with a bachelors in medieval history and a masters in US-Middle Eastern foreign policy history, respectively, Jordan resettled in Atlanta. He taught design and history at the Atlanta College of Art, The University of Georgia, Creative Circus and General Assembly, while continuing to work as an award-winning design director and a creative consultant with some of the biggest agencies and brands in the Southeast. He is currently the design director and co-founder of the design and media agency, J+E Creative.
A proud Atlantan, Jordan lives in the city with his wife, actress Ellie Decker, and five awesome kids. He is currently working on a follow-up novel to Calamity.
Please visit O-JD.com for more information about the author, as well as sample chapters, reviews, book club resources, a companion story, a guide to Calamity Jane's notorious saddle slang and more. Connect with Jordan on Facebook, Instagram and Twitter.
Chris Kennedy, Author Guest
A bestselling science fiction and fantasy author, speaker and publisher, Chris Kennedy is a former naval aviator and elementary school principal. Chris' stories include the Theogony and Codex Regius science fiction trilogies and stories in the Four Horsemenmilitary scifi series. Get his free book, Shattered Crucible, at his website, ChrisKennedyPublishing.com.
Chris is the author of the award-winning #1 bestseller, Self-Publishing for Profit: How to Get Your Book Out of Your Head and Into the Stores. Called "fantastic" and "a great speaker," he has coached hundreds of beginning authors and budding novelists on how to self-publish their stories at a variety of conferences, conventions and writing guild presentations, and he has published nine authors under various imprints of his Chris Kennedy Publishing small press.
Chris lives in Virginia Beach, Virginia, where he manages the curriculum for sailors learning to maintain the Navy's F-18 Hornet. He is the holder of a doctorate in educational leadership and master's degrees in both business and public administration.
Follow Chris on Facebook and on Twitter at @ChrisKennedy110.
James Palmer, Author Guest
James Palmer is a versatile, award-nominated author who has written everything from old-style pulp adventure and steampunk to space opera. His latest novel, Ix Incursion, is the first in an exciting new space opera trilogy.
James has written articles, interviews, reviews, columns, fiction and poetry for Strange Horizons, RevolutionSF.com, The Internet Review of Science Fiction, Tangent Online and many others, including an interview with the late award-winning author Jay Lake that was translated into Greek for a fanzine. His fiction has appeared in the anthologies Gideon Cain: Demon Hunter, The Amazing Harry Houdini Volume 1, Mars McCoy: Space Ranger Volume 2, The Black Bat Returns, Legends of New Pulp Fiction, Tales of the Peregrine Omnibus Volume 2 and Blackthorn: Thunder on Mars. He is the creator (along with former comics scribe Jim Beard), of the popular shared world, alternate history giant monster anthology series Monster Earth and Betrayal on Monster Earth, published by Mechanoid Press. Also for Mechanoid Press, James edited the weird western anthology Strange Trails and published Super Swingin' Heroes 1968 Special, which features a story by comics legend David Michelinie. In 2014, James was nominated for the New Pulp Award for Best Short Story.
His other works include Archer of Venus, Into the Weird, a collection of his short fiction, and his space opera novels Incursion and Light of Ages.
When not writing, James enjoys spending time with his family and blogging about self-publishing and 80s sci-fi and pop culture. James lives in Northeast Georgia with his wife and daughter and is currently hard at work on his next space opera trilogy. For more info, and to get a free e-book, visit JamesPalmerBooks.com.
Leia Powell, Author Guest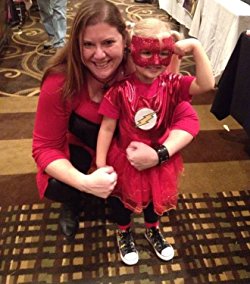 L. R. Barrett-Durham (aka Leia Powell) has been producing stained glass masterpieces for nearly twenty years. Licensed by Edgar Rice Burroughs Inc., she is first stained glass artist in history to be the sole licensee to create glass art of an author's trademarked characters. She was given the great honor of both the Polly Freas Viewer's Choice and Best 2-D art awards at LibertyCon28. She is also the maker of the JordanCon stained glass dragon!
L. R. is an established author who's written more than half a dozen novels in varying genres, including urban, epic fantasy, paranormal romance, sci-fi, horror and children's literature. Her newest novel The Adventures of Little Lei-Lei: Toil and Trouble has been praised far and wide as the gateway book for children rediscovering their imagination. You can always find her in our Dealer's Room!
Martin Powell, Author Guest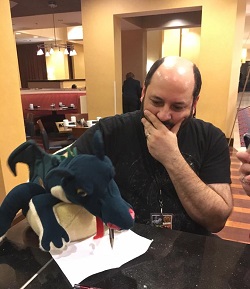 Martin Powell has written hundreds of stories in numerous genres for Disney, Marvel, DC, Dark Horse and Capstone Books, among others. Nominated for the prestigious Eisner Award for his work with Sherlock Holmes, he has written many of the most popular characters in the industry, including Superman, Batman, Popeye the Sailor, Dracula, Frankenstein and Tarzan of the Apes.
Currently, as the author of almost a dozen different ERB online comic strips, and the critically acclaimed Jungle Tales of Tarzan graphic novel from Dark Horse, it is probable that Powell has written more Edgar Rice Burroughs characters than any other contemporary writer. He received the coveted Golden Lion Award from the Burroughs Bibliophiles in 2017 for his on-going contributions to the legacy of Burroughs.
Ellie Raine, Author Guest
When she's not adventuring in her dreams, Ellie Raine is half awake and conjuring fantastical quests of scythes, sorcery and battle-clad wonder. Fueled by passion fruit tea and coffee-bean concoctions, her stories and poems are as real to her as the physical plane she wanders through when her stomach demands it. She's a lover of ravens and a dreamer of dragons, but above all else, she's a scribe to the stories that guide her.
Ellie is the author of Willow of Ashes, the first book in the NecroSeam Chronicles published by Dark Oak Press. She is busy working on the next books in the series and other stories that she hopes will be available soon.
Anthony Taylor, Author Guest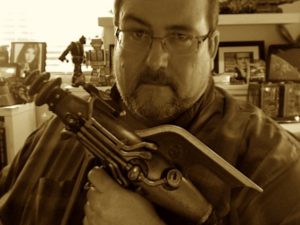 Anthony Taylor is an author and screenwriter as well as the licensing manager for the Bram Stoker estate. He is the author of Arctic Adventure!, an official Thunderbirds™ novel based on the iconic British television series by Gerry and Sylvia Anderson.
He has written episodes of the animated "Paddle Pop Adventures" series from Monk Studios and has several feature screenplays in development. In addition, Taylor wrote Voyage to the Bottom of the Sea: The Complete Series – Volume 2, which includes reprints of the classic "Gold Key" comic book stories, and The Future was FAB: The Art of Mike Trim, chronicling artist Mike Trim's career designing models and special effects for Thunderbirds, Captain Scarlet and UFO and illustrating the cover for Jeff Wayne's musical War of the Worlds album.
He was a monthly columnist for Toy Shop Magazine for 12 years covering garage kits and genre collectibles. Taylor was a regular contributor and editor for the British magazine Sci-Fi & Fantasy Models International and contributed a chapter on the Flying Sub miniatures from Voyage to the Bottom of the Sea for the book From Sketch to Screen. His articles have appeared in SFX, Video WatcHDog, Fangoria, Screem, Famous Monsters of Filmland, FilmFax, Amazing Figure Modeler, Effects Special, Modeler's Resource and many other magazines. Taylor also designed and co-edited CultTVMan's Ultimate Modeling Guide to the Jupiter II as well as CultTVMan's Ultimate Modeling Guide to Classic Sci-Fi Movies.
You can learn more about Taylor on his website, www.Taylorcosm.com.
Toni Weisskopf, Editor Guest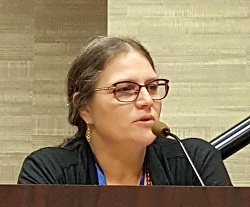 Toni Weisskopf succeeded Jim Baen as publisher of Baen Books, a leading publisher of sci-fi and fantasy, in 2006.
She has worked with such authors as David Weber, Mercedes Lackey, David Drake, Lois McMaster Bujold, Eric Flint, Wen Spencer, Larry Correia, Charles E. Gannon and many others. With Josepha Sherman, she compiled and annotated the definitive volume of subversive children's folklore, Greasy Grimy Gopher Guts.
Weisskopf is a graduate of Oberlin College with a degree in anthropology. She is the mother of a delightful daughter and lives in a 100-year-old house with three cats, two dogs,and a polearm in every room.
Christopher Woods, Author Guest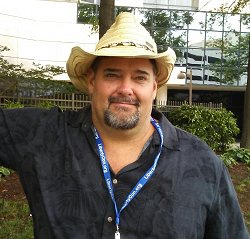 Christopher Woods published his first novel, Soulguard, in September of 2014 without many expectations, only to be surprised by the success of his sales.
Since that time he has published six more books and participated in an anthology, A Fistful of Credits, that has done quite well. With the continuation of that story, the ongoing Soulguard series and various remodel jobs, he stays busier than he would like to be.